MEXICO TRAVEL TIPS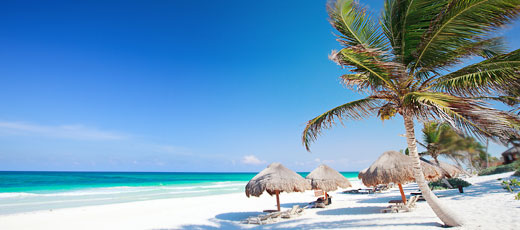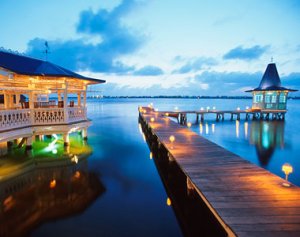 Key Facts
Country: Mexico
State: Quintana Roo
Municipality: Benito Juárez
Government: Mayer Julián Ricalde Magaña
Population: 628,306
Time zone: CST (UTC-6)
Postal code: 77500
Area code(s): 998
Official Languages: the official language spoken in Cancun is Spanish. Most of the locals working in the tourism industry speak English and you will find that French, Italian and German are also spoken by some. Many of the local indigenous people still speak Mayan as their first language and Spanish as their second.
Cancun Currency: Mexican peso. American dollars are also widely accepted.
Cancun Electricity: 110 volts. Hotels usually offer voltage converters for 220 volt devices. Many sockets do not accept polarized or three-prong plugs so it is recommended that you bring your own adapter but you can usually buy these in the hotel shop.
Cancun Emergency Numbers
Emergencies: 066
Fire Department: 52 (998) 884-1202 / 884-94-80
Police Department: 52 (998) 884-1913 / 885-2277
Red Cross: 52 (998) 84-1616 emergencies: 065
AA (24 hours) (English):52 (998) 884-6909 / 8841271
Harbor:52 (998) 880-1360, 1362, 1363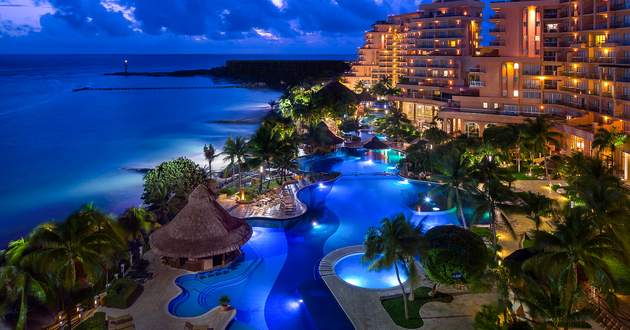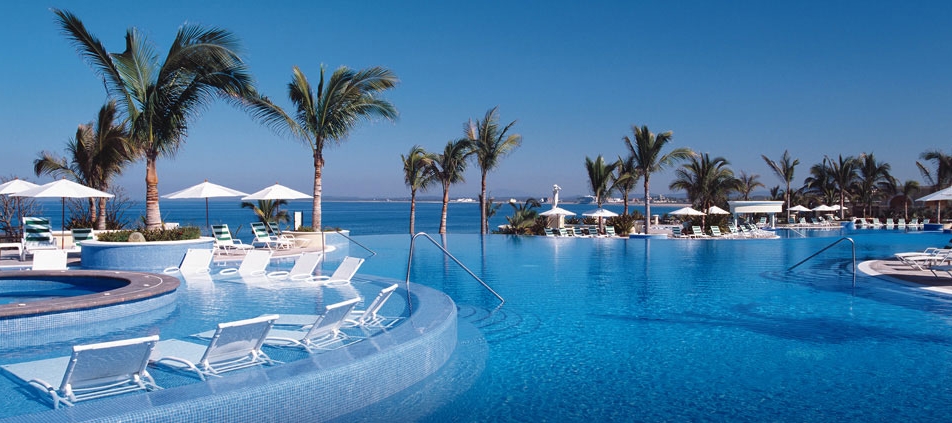 GEOGRAPHY
CLIMATE
Cancun is ideal place for a vacation any time of year. Its weather is tropical and humid with year round sunshine. The temperature ranges from 20° to 30° C (68° to 86° F) from October through to March and from 22° to 33° C (75° a 91° F) from April to September.
VISA
Upon arrival in Mexico you will need to produce an up to date passport plus a visitor's permit which is now known as the FMM "Forma Migratoria Multiple". This form is provided free of charge by your travel agent, airline or at point of entry. As before, passport holders from countries on Mexico's no visa required list do not need to apply for a formal visa to visit Mexico. If you're visiting Mexico from the US or Canada, this applies to you. The immigration officer at passport control may also ask you to prove the necessary economic means and a return ticket to your country. Immigration will check your documents and stamp and process the form, handing you back the right-hand portion, which you must keep and surrender when you leave Mexico. If you lose this form, you will have to go to the immigration desk at the airport and may have to pay a fine for another one, so it is best to attach it to your passport so it cannot be misplaced.
Mexico Visa Policy permits citizens of the countries listed below to travel to Mexico without a visa. (FMTTV):
Andorra, Argentina, Australia, Austria, Belgium, Canada, Chile, Costa Rica, Cyprus, Czech Republic, Denmark, Estonia, Finland, France, Germany, Greece, Hong Kong, Hungary, Ireland, Island, Israel, Italy, Japan, Latvia, Liechtenstein, Lithuania, Luxemburg, Malta, Monaco, Netherlands, New Zealand, Norway, Poland, Portugal, San Marino, Singapore, Slovakia, Slovenia, South Korea, Spain, Sweden, Switzerland, United Kingdom, Uruguay, USA, Venezuela
Source:
Ministry of Foreign Affairs
http://www.sre.gob.mx/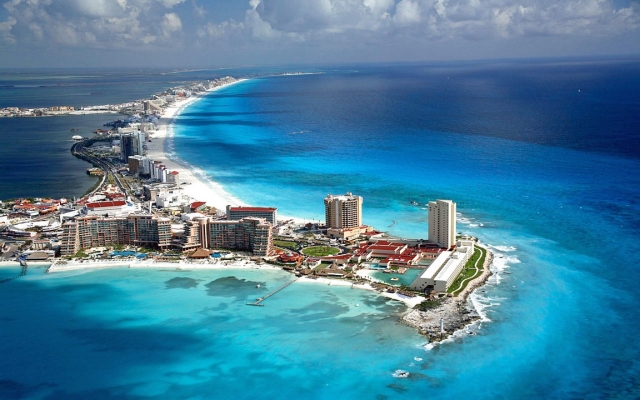 TRAVEL
BY PLANE
The Cancun International Airport handles the second largest volume of traffic in Mexico, but receives the highest score for its modern facilities and equipment, and above all, security. The airport complies with all US FAA specifications. Since they have built the new terminal, Cancun airport can boast great modern facilities and equipment.
BY CAR
It is very easy and cheap to get around Cancun by bus. You can catch a bus to most places within Cancun and there is a bus every hour from Cancun Airport to Downtown Cancun. From the Cancun bus terminal in downtown Cancun you will find regular services to all parts of Mexico. You can always find a taxi in Cancun, but make sure you check the fare before you get in. A list of regular fares can be found in the lobby of most hotels or you can ask the concierge.
LOCAL TRANSPORT
CABS
You can get a taxi anywhere in Cancun. Since the airport has its own taxi system, other taxis are not allowed to collect passengers from the airport. It is best to agree the rate before you start your journey.
To/From the Airport
Greenline
Ex. Airport to Moon Palace: 1-4 Pax 40.00USD
Phone: 886 03 27
Taxi by Hertz
Ex. Airport to Moon Palace: 1-4 Pax 40.00USD
Phone: 01800 021 8087
By Boat
The ferry to Isla Mujeres from Puerto Juarez leaves every 30 minutes between 6am and 8pm.The fast service takes 15 minutes and costs 3.50usd and slower on takes 45 minutes and costs 1.8usd.There is ferry service from Playa Tortugas in the Hotel Zone. It leaves every hour between 9am and 2pm and takes 30 minutes. The last ferry leaves Isla Mujeres at 9pm. This costs 15usd for a return ticket. There is also a car ferry leaving from Punta Sam which costs 13usd for the car plus $2usd per passenger. These leave five times daily starting at 8am and the last one leaves Isla Mujeres at 7.15pm.
By Bus
Buses are the cheapest way to get around Cancun and you can get from the Hotel Zone to almost anywhere for only 8.5 pesos (Mexican coins only).If you want to get a bus to another town or city then you can go to the bus station on Avenida Tulum and get buses to Playa del Carmen, Tulum, Merida, Chetumal and just about anywhere you would like to go in Mexico. The ADO bus service is very comfortable and reliable if you are planning a long trip.
Car Rental in Cancun
Alamo: +52 (998) 886 0179
Autosel: +52 (998)8851618
www.autoselrentacar.com
Avicar: +52 (998)8849635 / 8872389
From USA & Canadá: 1 888 903 2666
From Mexico : 01 800 282 7875
www.avicar.com.mx
Avis: +52 (998)8860250 / 8834683 / 8852348
www.avis.com.mx
Balam Caribbean Transfers: +52 (998)8483364
www.balam-transportaciones.com
Budget: +52 (998) 884 69 55
www.budget.com.mx
Caribe Tur : +52 (998) 8831071 / 8800678
From USA : 1 800 717 0445
From Mexico : 018008218854
www.caribetur.com